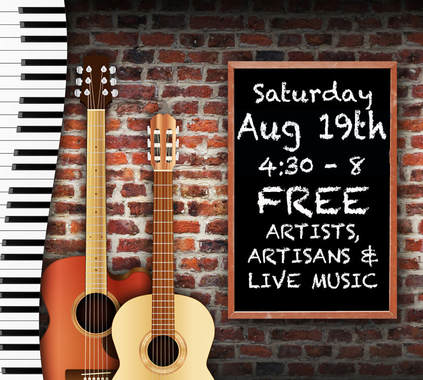 Sept 23, Saturday, Vanguard Art Expo & Musicfest - - Sign Up Now!!!
Attention Vendors
Free Booths for August
Attention Musicians -
Want to play a set?
Call 562-556-5178

The Vanguard Outdoor Art Expo is on this Saturday Sept 23 from 4:30 to 8:00 PM (summer hours - change come October). The Vanguard Art Expo is open to all fine artists, non-profits, public services, and commercial vendors. The event is free to the general public. Artists and artisans will display their creations for sale throughout the common area at Stoneridge Towne Centre plaza, adjacent and across from our Vanguard Art Gallery. Commercial vendors, non-profits, and public services are allowed to distribute information, free items and sign-up people for their services. August booths are free for vendors - come check us out. Register using the online form below and pay using our PayPal link (Donate button). You can also download the PDF Art Expo form and bring it with you to register the day of the event. Booth locations are assigned with preference given to repeat vendors. Music begins at 5:00 PM. It's all free and promises to be lots of fun. We are always looking for all sorts of talent to perform at our events,
​so call us to get it going!
---