MVCAF Approved as Official City Group
On September 8, 2016, the Moreno Valley City Council voted unanimously to approve the Moreno Valley Cultural Arts Foundation an "Official City Group". We have negotiated a contract with the Department of Parks & Recreation and once it is approved by the City Attorney, MVCAF will receive a $5000 stipend annually. MVCAF is to continue its endeavors to provide a variety of wonderful and much needed arts programming along with directly consulting with the City and it Arts Commission as a partnership in future City related arts projects. This, along with receiving our Challenge America Grant from the National Endowment for the Arts and a matching grant from the Moreno Valley Unified School Distict, is another high honor for MVCAF for which we are both proud and grateful.

Nurturing the Arts for a Better Community
Our Mission:
It is the expressed purpose of the Moreno Valley Cultural Arts Foundation (MVCAF) to support the cultural, visual, and performing arts within the City of Moreno Valley through grants, the provision of technical expertise, services, promotion of public awareness and coordination of volunteers to implement such support. The MVCAF is a non-profit, public corporation that is registered with the State of California and exempted from federal taxes under the IRS tax code section 501 (c) (3).

Founded in 1988, the incorporated, non-profit Moreno Valley Cultural Arts Foundation(MVCAF) has fostered the successful beginnings of several community arts programs. In 2011, the new President and CEO, Richard L. F. Archer has charted a new course for the MVCAF to provide opportunities to artists of all disciplines and to advocate for the return of the arts in education. The MVCAF seeks to create partnerships between artists and with local commerce, government, education, faith-based organizations, other community organizations, and the community-at-large to positively impact the quality of life within our City of Moreno Valley.

---
Workshop Partnership with Moreno Valley Unified School District
MVCAF has partnered with the Moreno Valley Unified School District to begin offering workshops in art and music on campus. For more information and to register for these workshops go to our
Workshops and Classes
page. If you are a MVUSD student, all workshops are free and all you need to do is register. Family and adults are welcome too for a nominal fee of $5 (click the donate button to pay for your workshop, most materials are included with each workshop).
---
Charting a New Course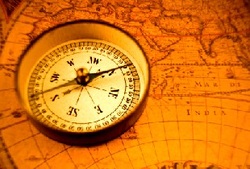 MVCAF has experienced some substantive growth in scope and purpose. In addition to our commitment for public service, we have chosen to make changes to assure that our gallery and events are accessible to everyone. Our intent is to make certain that we provide a welcoming environment that helps to bridge social gaps. We are dedicated to work with the arts, of all genres, as a universal language to bring about greater awareness, tolerance, and understanding. We will also facilitate related programming as a community outreach effort.
Check out our Accomplishments page.
---
---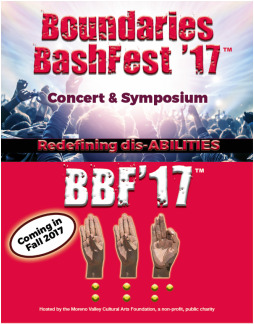 Boundaries BashFest 2016 -
A Wonderful Experience and on to
Boundaries BashFest 2017TM
On September 16 and 17th, some incredible and extremely talented people, representing a broad variety of disabilities, came together at our Vanguard Art Gallery and neighboring site. The event became everything it was designed to be and more. The performances were inspiring and full of positive energy. All performers and artists were very pleased with the event and have all indicated that they want to be back next year. We are most fortunte that an excellent patent attorney has offered his services and we have officially filed with the US PTO to officially trademark Boundaries BashFest. We are editing all the video to get it ready to go online for you to view. If you like to support our effort to begin for next year you can hit the DONATE button below! If you would like to get involved in shaping next year's event(s), please contact 562-556-5178 to discuss further. More soon.

Boundaries BashFest is now officially a TM (trademark)

---