EventsMVCAF and Vanguard Cultural Arts Museum/Gallery EventsAugust 23 -Night with Wine and Paint artist, Jeni Bate 6:00 PM at the Vanguard Art Gallery
August 20 - Absolute Beginner's

Guide to Painting - 9 am - 4:30 pm
August - September 1 - Jeni Bate - Exhibition
​August 19 - Jeni Bate - Artist Reception 4:30 pm
​August 19 - Vanguard Art Expo & MusicFest , 4:30 - 8:00 PM

On-going - Gently Used Book Sale
---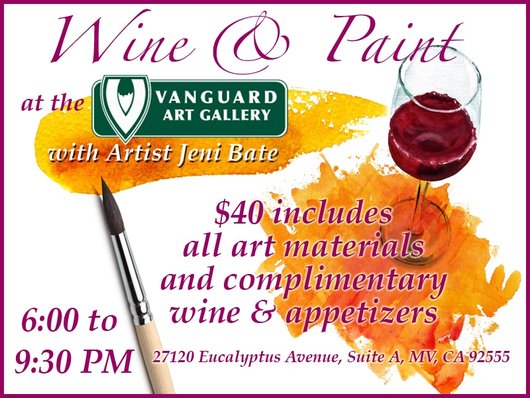 August 23rd at 6:00 pm
Wine & Paint with Jeni Bate
Friday evening, August 23rd we host another Wine & Paint. These have proved to be a very fun night for all involved. This is a great way to spend time with friends, family and someone special We start the night with some complimentary wine and appetizers and a chance to socialize. From there you will sit down at your easel and canvas as Jeni guides you through creating your own painting. At the end of the evening, you will be able to marvel at the beauty of your own artwork that you then get to take home. All art materials are covered in the price of $40. Walk-ins are an extra $10 the night of the event. If you check other similar events throughout So Cal and elsewhere, our Wine & Paint event is the best bargain! Once you finish your masterpiece, you can to continue to socialize.
---
---
The Absolute Beginner's Guide to Painting -
August 20 • 9:00 am - 4:30 pm

Have you thought you'd like to try painting, but did not want to go to expense of buying all of the materials to start? This is exactly the class for you. Jeni Bate offers an in-depth beginner's class on painting. August 20th, 9-5pm (class begins at 9 so please arrive a little early) and bring a sandwich or similar for our short lunch break.

How much: $110 includes all materials. Please wear clothes that you won't cry if you get paint on them, though this is not usually a messy class.
---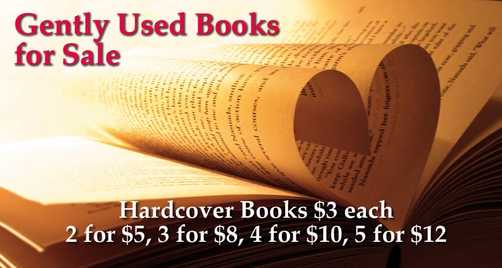 Gently-Used Book Sale -
Ongoing at the Vanguard
A perfect time to pick up that book that your special someone has been wanting to add to their library, or just treat yourself. We have a great variety of hard covered, gently-used books for sale, coffee table books starting at $5, and excellent hard-covered books for only $3. Some collections available and sold as a collection. Tom Clancy, Ken Follet, Michael Crichton, Robert Ludlum, Aleksandr Solzhenitsyn, and numerous classics.


---